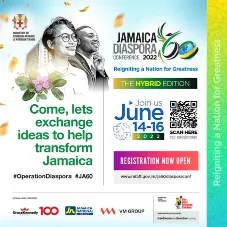 Jamaic60 Diaspora Conference – Day 1
The Jamaica 60 Diaspora Conference convened by the Ministry of Foreign Affairs and Foreign Trade will be held under the theme "Re-Igniting a Nation for Greatness" over the period 14th to 16th June 2022. This year's Conference aligns with the Government's recovery from the COVID-19 pandemic and seeks to underpin the efforts geared toward the digital transformation of Jamaican society.
The Biennial Conference remains the signature event in Jamaica's effort to meaningfully engage with Jamaicans dispersed around the globe. In a departure from tradition, the Conference will be a hybrid engagement, with a focus on the virtual component. It is the ninth in the series of biennial conferences that have been convened by the Ministry since 2004, and remains a key feature of the Government's formal engagement with the Jamaican Diaspora.
2022 FOCUS AND OBJECTIVES
In support of efforts to re-ignite economic and social transformation, the Conference will explore mechanisms which will strengthen and facilitate Diaspora engagement in traditional areas of interest, including health, education, security, investing in Jamaica and the development of human capital, all within the context of the country's digitization programme. As Jamaica emerges from the last two years of the pandemic, we seek to zero in on specific opportunities, solutions and actions to broaden the Diaspora's involvement in the affairs of the country. Diaspora Business and Trade partnerships, philanthropic investment in Health and Education, Skills harnessing, volunteerism and entrepreneurship, remain key areas of emphasis.
The main goals and objectives of the Jamaica 60 Conference are to:
deliver a dynamic, interactive, informative and engaging Conference, using the latest virtual conferencing tools that will allow for the participation of Jamaicans across the globe;
highlight the initiatives for the digital transformation of Jamaica and identify mutual areas of interest and specific opportunities for closer collaboration with the Diaspora;
celebrate the 60th Anniversary of Jamaica's Independence.
WHAT'S IN STORE
The Conference will feature plenary sessions on a range of relevant topics, high-level panels, interest-group meetings, a virtual marketplace and Government-at-your-Service fast-tracked Diaspora services, invigorating cultural entertainment and inspirational "river-side" chats – all delivered on a virtual platform.
WHO CAN ATTEND
Anyone of Jamaican descent, who resides outside of Jamaica or in Jamaica, can attend and
participate in the conference. There are no restrictions! The event will bring together a diverse group of Jamaicans from across the globe with Jamaicans at home. Diaspora business interests, philanthropic groups, young people of Jamaican descent – whether you are a 2nd or 3rd or 4th generation Jamaican, a member of an organization, or an interested Jamaican seeking an avenue to contribute to Jamaica's development – come, join us for meaningful dialogue and action.
Together we are Re-igniting a Nation for Greatness!